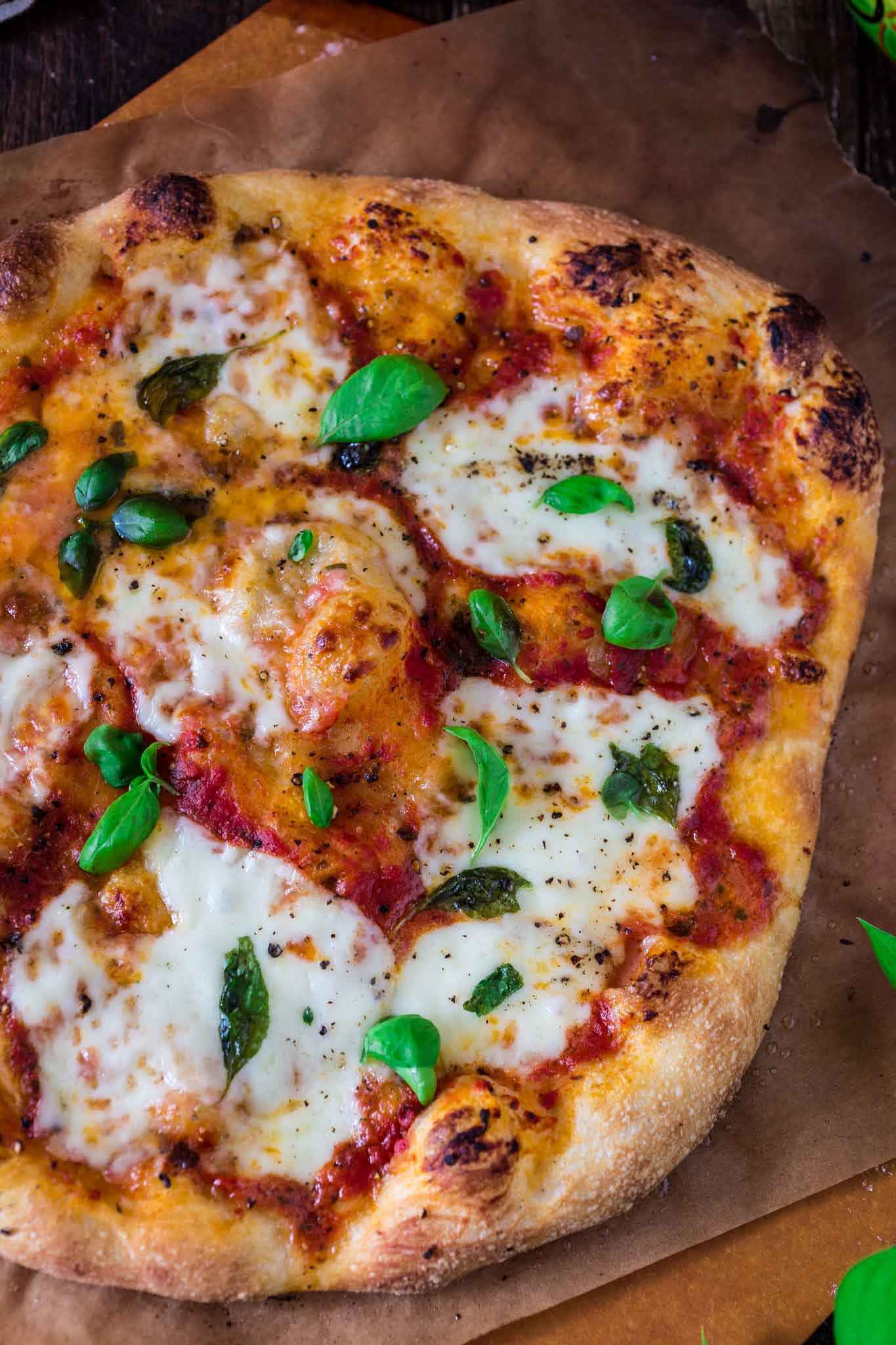 Margherita Pizza - the subtleties of cooking Neapolitan classics
Italians are sure that real pizza should be thin, and the filling should consist of only three ingredients - mozzarella, tomatoes and basil. A classic example is Neapolitan pizza Margherita. We offer to figure out how to cook this Italian masterpiece at home.
What determines the correctness of cooking pizza?
There are several nuances without which the pizza will not be airy, tasty and fragrant.
The temperature and method of baking greatly affect the taste of the finished dish. Italians are convinced that pizza can be considered tasty only if it is cooked in a wood-burning stove at a temperature of 485 ° C. In the conditions of a city apartment this item is not feasible, therefore in a home oven you should set a maximum fire - at least 250 ° C. The oven should be kept at the maximum temperature for at least half an hour to warm it up well and prepare it for baking pizza.
Pizza cooking time in a wood oven is just a few minutes.At home, it will be cooked in 6-8 minutes. If you overdo the pizza in the oven - the dough will turn out dry and brittle, and the filling will lose its main zest - juiciness.
Baking tray should be hot. The dough begins to prepare on it from the very first seconds, and if you put the pizza on a cold surface and wait until it warms up, the filling will start to evaporate and dry.
Ingredients, too, need to be selected with special care: with them Margarita pizza will turn out really Italian. The quality and type of flour affects the structure of the dough - the more protein it contains, the better. This is explained by the fact that during dough kneading, gluten is released from wheat protein, which plays a major role in the formation of its texture. The more protein, the more porous and airy will bake.
To make a thin, but soft pizza base, choose flour, which includes at least 12 g of protein per 100 g of product. On sale mainly flour, containing not more than 9 grams of protein in its composition. Alternative can serve as a flour marked "for bread." You can also search for special flour on the shelves, where it says "for pizza". It is more finely ground and contains more protein.
Work with the dough is another important point.The finished dough should stand, ideally the process of straightening takes from 3 to 12 hours. Pizza, the dough for which had time to "relax", comes out especially tender and fragrant.
The filling for Neapolitan pizza does not require additional heat treatment, so you can add it raw directly before sending the pizza to the oven. But when cooking another variant of pizza, which includes mushrooms, sausages and other ingredients, the preparation of which takes longer than the baked pizza, fry them until cooked should be in advance.
The filling should be laid out in a thin layer, otherwise it will not have time to cook, the dough will remain raw under it. The basis for the pizza is first spread on parchment sprinkled with corn (or other coarse) flour, then spread the stuffing and only then it all goes to a hot baking tray.
Margherita Pizza Recipe
fine flour - 250 g;
fresh yeast - 10 g;
warm boiled water - 160 ml;
sugar - 1/3 tsp;
salt - 1/2 tsp;
corn flour - a handful;
tomato sauce - 1-2 tbsp .;
mozzarella - 130 g;
basil - 10-12 leaves;
Olive oil - 1-2 st.l.
From this amount of ingredients you get two small pizzas, up to 30 cm in diameter.
Yeast rub with sugar, pour warm water and, while stirring constantly, bring them to complete dissolution. Sift flour, put a slide in a bowl, pour a thin stream of water into the flour with yeast. Stir gently, add salt, knead the dough. It is best to do this with a special mixer, first at a low speed, and then at a stronger one.
Hands have to knead the dough for 15 minutes, until it becomes elastic and elastic. If the dough has not reached the desired consistency and sticks to the hands, you need to gently mix in a little flour. It is important not to overdo it, because the excess flour will make it dense and tough.
The finished dough should be allowed to separate. For this, a ball is formed from it and transferred to deep dishes greased with olive oil and sprinkled with flour. Cover with foil and leave in a warm place for at least 3 hours.
Preheat the oven before making pizza. Remove the dough from the container and slightly knead in the hands, divide not two equal parts.
From one part to form a cake (better with your hands, but you can use a rolling pin).
If the dough does not stretch out well, let it rest for a while, then get to work again.The dough should have a thickness of 3-5 mm, at the sides you can leave a more dense layer.
Put the base on cornmeal-dusted parchment. Smear it with tomato sauce, sprinkle with olive oil, put mozzarella and basil, and sprinkle with oil again.
Send in a hot oven for 6 minutes.
Pizza Margherita is ready!
Take it to yourself, tell your friends!
Read also on our website:
Quick snacks that you can make before the arrival of guests
Who said that to organize a tasty table you need to stand at the stove for half a day? We will be happy to show you some great recipes with which you can cook some quick snacks that can be prepared at the last moment before the guests arrive!
This radish you have not tried! Unusual summer recipe
We are glad to tell you an unusual recipe for the preparation of a useful and bright vegetable that makes us happy in June - this is a radish dish! We used to add it to salads and okroshka, our favorite, but did you try to fry it? It turns out surprisingly very tasty!
Unusual potato recipes - fingers you will lick!
It would seem that you will not be surprised with our man's potato - anyone will be able to list at least a couple of ways to prepare it quickly and tasty for everyday use. However, we will teach you to cook other, unusual dishes from potatoes that can be safely served on the festive table!
What to cook from apples? Recipes for delicious desserts!
For some reason, not all of us have a love for apples, even though it is very useful and, perhaps, the most accessible fruit in our area. But apples can not only be eaten raw, but also cook delicious and fragrant desserts from them! What kind of apple dishes should be cooked for the beginning - see below!
Recipes for savory and delicious egg salads in a hurry
Chicken eggs - one of those products, which is more often the rest can be found in our refrigerators. But in addition to the banal scrambled eggs of them you can cook a lot of salads, which you can eat for lunch at least every day, or you can serve on the festive table.The most affordable and delicious egg salads are waiting for you further!
What to make from pears? Simple seasonal recipes
Pears are now available as never before, so the housewives have a question: what tasty can be made from these seasonal fruits? Of course, jam, pancakes, pies and much more interesting! However, this time we will not experiment and present to you simple, but proven recipes for pear dishes.
Incredibly delicious pumpkin dishes for the autumn table!
Pumpkin - the queen of the autumn table, rich in nutrients and just very tasty! What can be cooked from juicy pumpkin, since now is the time when you can easily buy it in the store? Next, we collected the most delicious and original pumpkin dishes that can be eaten for breakfast, lunch and dinner!
What to cook from bananas? 5 best recipes for every taste
Bananas are tasty, healthy and affordable fruits, but most of us are used to eating them only raw and just as a snack. But there are a lot of incredible dishes, both simple and more complicated, where one of the main ingredients is a banana.What to cook from bananas - tell and show!
Recipes for delicious fish dishes that diversify your table
If you do not like fish, then you just do not know how to treat it correctly! This is the product that must be present in your weekly diet, and we will tell you how to cook the fish so that the dishes are tasty and varied. The main characters of the table are beloved by many mackerel and herring!
Unusual dessert without baking: preparing the cake "Broken Glass"
If you are not at all friends with pastries, but want to please yourself or your loved ones with a delicious dessert, we advise you to pay attention to the "Broken Glass" cake! It looks very unusual and beautiful, and it is preparing quite simply. A detailed recipe for a cake without baking with step by step photos look in our article!
Cooking delicious and healthy desserts without flour and sugar: 3 simple recipes
Who would have thought that you can eat sweets at least every day and not get fat! You just need to learn how to make delicious and healthy desserts without sugar and flour, and then you don't want to go back to the unhealthy and fatty cakes and donuts.Simple recipes for such unusual sweets are waiting for you in this article.
Simple and delicious egg dishes that you definitely need to try.
Due to their availability and nutritional value, chicken eggs are a frequent guest on our table. But not everyone knows what to cook from eggs other than scrambled eggs or scrambled eggs, so that it is as simple and tasty as possible, so we collected a few cool recipes of eggs dishes that diversify your menu. Be sure to try!
Related news
Margherita Pizza - the subtleties of cooking Neapolitan classics
Margherita Pizza - the subtleties of cooking Neapolitan classics
Margherita Pizza - the subtleties of cooking Neapolitan classics
Margherita Pizza - the subtleties of cooking Neapolitan classics
Margherita Pizza - the subtleties of cooking Neapolitan classics