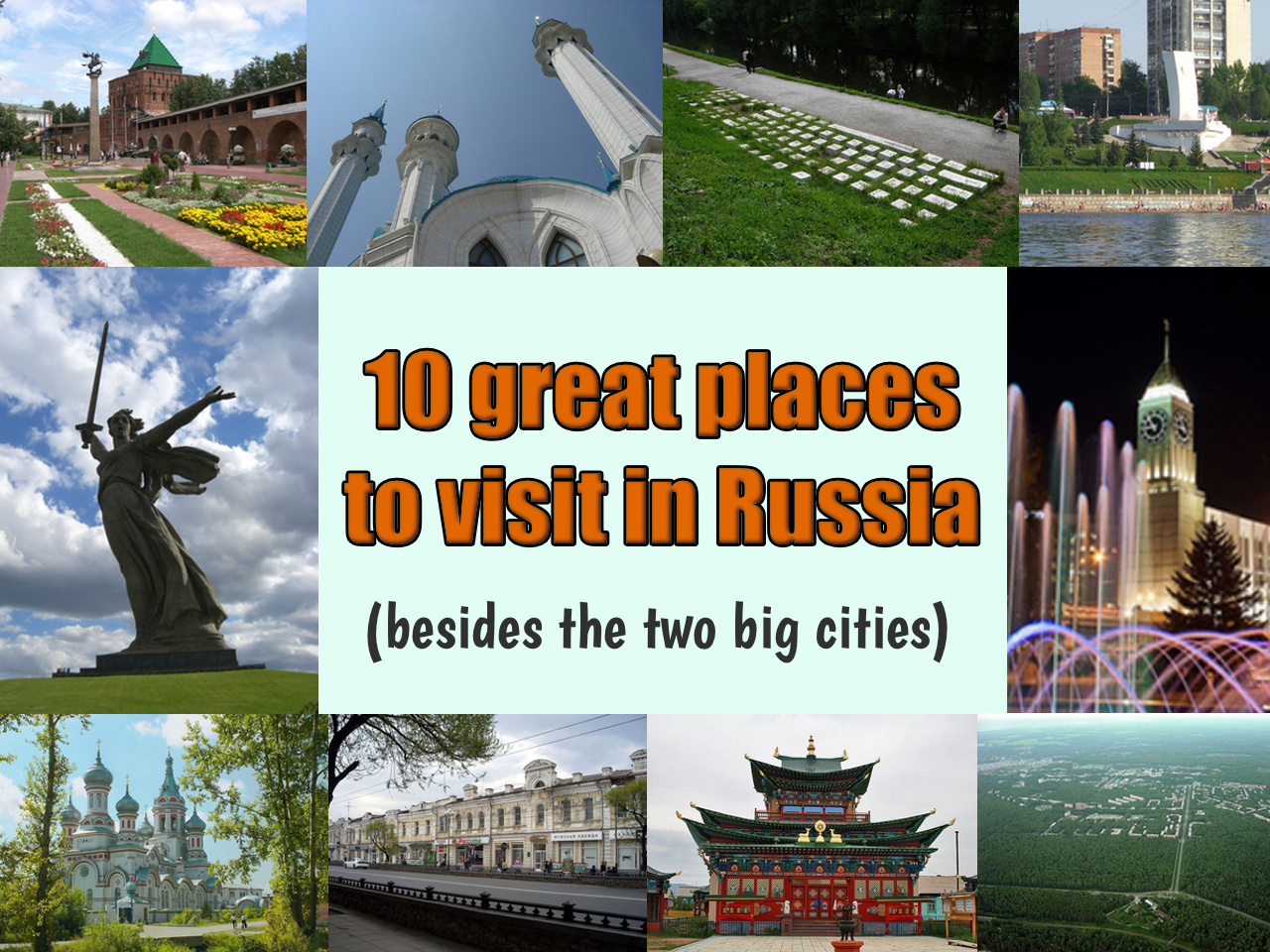 Anastasia Sergeeva
17.03.2017
Amazing places in Russia that you need to see with your own eyes
Quite a few domestic travelers and foreigners can be found all year round on the streets of Moscow and St. Petersburg, the main cultural and tourist centers of the country, and without much advertising. But we want to draw your attention to other architectural and natural sights of Russia, which amaze with their beauty and greatness no less. It is not only interesting to travel abroad!
Altai Mountains
This vast territory, which includes the Ukok plateau, the Altai and Katunsky nature reserves, is rightfully included in the main natural attractions of Russia. Being also a UNESCO World Heritage Site, the Golden Mountains of Altai have become a haven for many endangered species of animals, for example, Altai argali and snow leopards.
The Altai Mountains include about 1,500 glaciers and mountain ranges, which are the highest point of the Arctic Ocean basin.This region is located in the south of Siberia and is quite difficult to reach, and some areas are located so remotely that you can only get there by helicopter.
Lena pillars
No photos can convey the beauty and majesty of this sights of Russia. Unusual limestone cliffs along the banks of the Lena River cause, at the same time, for all observers both the feeling of unreality of what is happening and reverence for such an ancient monument - after all, the Lena pillars are over 500 million years old.
They are also known as the Stone Forest of Yakutia and, like the previous natural sights, are on the UNESCO World Heritage List. It's best to look at them from the water, either by independently picking up your canoe or taking a ride on a tourist boat along the Lena Pillars.
Geysers of Kamchatka
There are amazing places in the world that can boast of their thermal springs and geysers, and Kamchatka has become one of them. Here, just in the last century, the incredible Valley of Geysers was discovered, which can be called one of the most precious sights of Russia.
In total there are about 90 sources and geysers, although the largest geysers in the Valley are about two dozen. Some of them throw streams of boiling water every few hours, while others gush almost every 15 minutes. The spectacle is fantastic!
Kungur cave
Perm region boasts stunning beauty of the place - a karst cave with a length of more than five kilometers. Inside the cave there are about fifty grottoes created by Mother Nature herself, and more than seven dozen lakes.
And although the tourist overview is available a little less than 2 kilometers of territory, one can endure so many impressions from this cave that it lasts a lifetime - the underground lakes look too exciting, and grottoes with stalactites and stalagmites. Do not miss the opportunity to go on a trip to Russia once and visit this kingdom of the Snow Queen!
Kizhi
Then we could not ignore the Kizhi parish, which is located in the Republic of Karelia. If we even talk about the best architectural sights of Russia, then this museum complex is simply obliged to get on this list.It contains a whole multitude of monuments of architecture, life and icon painting of Russian, Vepsian and Karelian villages, created over hundreds of years. But than seven times to hear, we advise you not to postpone the trip to Russia and once to see the beauty of the Kizhi architectural ensemble with your own eyes.
Read more: The culture of the peoples of Russia is the most interesting
Smolensk Kremlin
Speaking about the sights of the European part of Russia, it is worth mentioning the grand architectural structure of the beginning of the XVII century - the Smolensk fortress wall.
It was Smolensk that always became an obstacle to the conquerors of Moscow; therefore, by the decree of Ivan the Terrible, this grandiose fortress was built here. It is said that in terms of the total length of the walls, it ranks third in the world. By the standards of those times, it was a very powerful and practically impregnable structure. Admire the greatness of the fortress, which is sometimes called the Smolensk Kremlin, you definitely need with your own eyes!
Elbrus
We cannot fail to include Elbrus in the list - the highest mountain peak of both Russia and Europe located in the Caucasus.In fact, it is a fading stratovolcano, snow from which does not descend even on the hottest summer days.
Even at the foot of the mountain, travelers are delighted with stunningly beautiful landscapes, and what can we say about what views are open to those who go on a mountain hike to the top ... Tourists, as one, say that such amazing places and such magnificence cannot be seen anywhere else.
Lake Baikal
Of course, we just have to write about Lake Baikal - the deepest lake in the world, surrounded by numerous mountains and hills. Travelers are especially attracted by its purity and surprisingly clear water.
Many plants and animals that grow and are found on Lake Baikal, can not be seen anywhere else in the world. This lake is especially famous for its winter landscapes: across the Internet you can see photos of huge frozen water surfaces, in which huge picturesque cracks of torn ice form at the depth. But with their own eyes, these sights look even more exciting, no doubt.
Balaam
Definitely worth a visit on the island of Vallam, where one and the most important monasteries of the Russian Orthodox Church.You can learn more about this holy place and see its beautiful landscapes in the following video:
See also: The most amazing places in the world, the existence of which is difficult to believe
Take it to yourself, tell your friends!
Read also on our website:
Traveling Wisely: Cool Life Hacks for Tourists
Anything happens in travels and trips: now there is no toilet nearby, then there is nowhere to put things, then there were no spoons at hand ... So that you could get out of similar situations with dignity, we found cool life hacking for tourists, which will open your eyes to original solutions many small problems.
15 ways to cheat tourists in different countries: everyone can get caught
When going on vacation abroad, be careful: someone from the local crooks will certainly want to take advantage of the fact that you are not a local person and may be very naive. How to cheat tourists most often? The most common types of fraud abroad are collected in our article - take note!
How to behave on vacation? Hotel Security Rules
The holiday season begins, when many decide to allow themselves to rest abroad, staying at a hotel. And although we do not advise you to become paranoid about potential threats that may await you there, but it is in your interest to learn the safety rules at the hotel so as not to become a victim of attacks and thefts.
We are going on a trip: what must be in the first-aid kit?
A first-aid kit is as important an attribute of travel as a passport, money and other basic necessities, because the first aid provided in time can save a person's health and life. What should be in the first-aid kit of the traveler, what medicines are better for taking on a trip - we tell in detail in this article.
10 of the most expensive cities in the world, where living costs a pretty penny
The analyst group of the British magazine The Economist has once again compiled an annual ranking of cities in which accommodation is the most expensive, taking into account the cost of food, shelter, travel and medical services. What are the most expensive cities in the world topped the list in 2017 - find out further.
Useful gadgets that will come in handy when traveling
In the age of development of new technologies, modern travelers and tourists take with them not only documents, money, clothes and a mobile phone, because many interesting devices have appeared in the world that make the journey even more comfortable. We will tell you what useful gadgets worth taking on a trip.
The most colorful cities in the world that will make your day brighter
Are you also bored with our boring and monotonous gray buildings, which are the only ones that can drive passers-by into melancholy? But there are in the world unusual color cities, where houses are painted in such bright and cheerful shades, that from them the mood flies up, and the soul sings! Admire them and we offer in our article.
15 things from Japan, which we lack for a comfortable life
Japan is considered to be one of the leaders in the field of innovation all over the world: in this country you can see such unusual things and know-how that you would not think of anywhere else! And they are all aimed at making life in Japan even more comfortable for people. I would like to see such useful Japanese things with us!
Unusual winter fun of the world, which is especially popular with tourists.
Looking for an alternative to traditional winter fun? We offer you to arm yourself with the experience of other countries that either offer their residents and tourists new types of seasonal leisure activities, or show a fresh look at familiar winter activities. We suggest to take these options on a note!
The most amazing places in the world, the existence of which is difficult to believe
Nature, man, and sometimes their tandem, are able to create such amazing sights that you look at the photos and you don't believe in your eyes - it seems like this is a very skillful photoshop. Next you will find a selection of photos, where the most beautiful places in the world are collected - look and see for yourself!
Coral Travel franchise: the triumph of mutually beneficial cooperation
This form of business as franchising has established itself as one of the most successful, because it benefits both the brand and the franchisee working with it. The business trend is also practiced in the travel industry - read more about this in our article.
These extreme entertainment can not stand everyone!
Some people simply cannot live without tickling their nerves. But besides the usual extreme sports, mankind has come up with other extreme entertainment, which you may hear for the first time in your life. What an unusual way you can get a charge of adrenaline - find out further.
Related news